So, yesterday was supposed to be a date night for me and Joel. But, because he had to go play military guy out of the area, it turned into a girls' night instead. My friend Tina, who has really started becoming a
good
friend rather than just an acquaintance, joined me, and I'm really enjoying us becoming better buds.
Anyways, Joel and I splurged a few months back to go and see The Book of Mormon at the Fox Theater. It looked hilarious, and of course I have an insane love of musical theater, so we had to book tickets. There were no TDYs on the horizon, but of course you can never make plans in ink, right?
Well, we got down to the theater and parked in record time, but as we walked along the street to find a place for dinner, we were very discouraged to find that every place was packed, and the 45-60 minute wait wasn't going to allow us enough time to get to the theater. So, we walked a little further, and I saw a huge sign outside of a building tucked away, and so we went that way to see if it was a restaurant.
Do you recognize this place? How about these folks?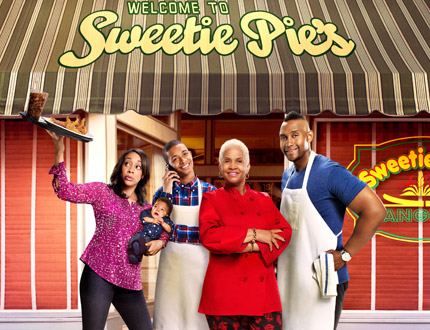 In case you didn't know, and I didn't before moving here, Oprah's new Network films a reality show at this restaurant. When we walked in, the nicest security guard in the world let us know that the show was filming, and we might end up on tv. Say wha? We were definitely in!
The whole staff was as sweet as could be, and I definitely enjoyed my dining experience. The food was traditional Southern Home Cooking, and needless to say that we did
not
walk away hungry. And by the way, if you ever get the chance to go, try their pear cobbler. It was life changing.
We walked back toward the theater, grabbed a drink, and headed in. For a Tuesday night, it was completely packed! Luckily our seats had incredible views. I was so excited for the show to start!

The stage. The border is the temple in Salt Lake City.
The show was hilarious! It was a little crude, but what else can you expect from the creators of South Park? Was it offensive. Totally! But if you aren't one to get offended easily, this will have you bursting with laughter from start to finish. The traveling cast was incredibly talented, and I am so grateful to Tina for filling in in Joel's absence. This is definitely a must see if it comes to your area!