Another weekend has come and gone way too fast. And I feel the next 16 weeks are going to be a blur. Thursday night is the official "start" date of student teaching, which begins with an open house and meeting the kiddos and their parents. This day totally snuck up on me. I have no idea how I'm going to make it.
Anyhow, Friday was pretty low key. Since it was my furlough day, I met up with a friend and we had lunch and custard. I wish I would have taken a picture of my custard, but it was just too delicious and I had to devour it. Right?!
Friday night I was
supposed
to have a book club meeting, but I was apparently the only one that had started the book, and by the time everyone decided to cancel the meeting, they all magically had plans for Friday night. So I spent my night home by myself because Joel was off playing Airman somewhere. Loser, party of one...
But, Saturday brought him back to me! It was nice to have him home, even though we didn't do anything too spectacular. We did cross off a "101 Things to do in the Lou" bucket list, which was to see a show at the Muny. The Muny is the oldest continuously running outdoor theater in the country, and it was truly a beautiful night to see a show. This weekend concluded it's 95th year, and we saw "West Side Story." They also said farewell to an employee that had been there for 50 years. Fifty years!! Crazy. It was a fun experience, and I'm glad we went. My suggestion to anyone that goes is to pack a picnic basket and eat dinner there. They have entertainment set up around some picnic tables before the show, which we didn't know about. We had planned on eating at the only nearby restaurant, but it had a freaking 90 minute wait. So we ate at the cafe, and paid $10 for a super tiny microwave pizza.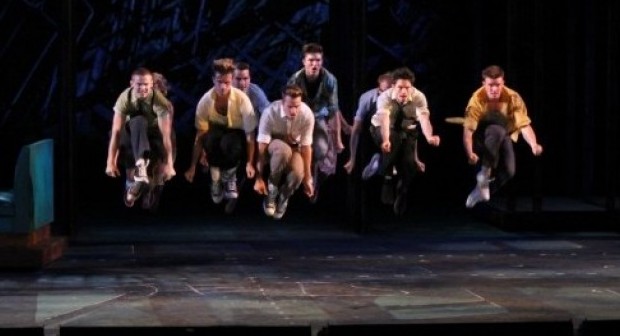 Sunday was filled with errands as usual and gearing up for the coming work week. I had a terrible migraine, so it was a pretty low key afternoon. We played with our new foster boy Willard, and caught up with our DVR. If you know anyone local looking to adopt a pug, Willard is a super sweet boy that really deserves a good forever home.
Willard, with a Pugsley photobomb